Academia Belgica-Studia Archeologica: The Potenza Valley Survey (Marche, Italy).

Academia Belgica-Studia Archeologica
The first volume of the Belgian Academia series, "Academia Belgica – Studia Archaeologica", published in collaboration with Fondazione Dià Cultura, is now available. This new series has the intention to publish the results of the latest Belgian archaeological research carried out on the Italian territory.
This first volume brings all relevant data together about the newly discovered and systematically surveyed sites in the Potenza Valley Survey project (2000-2017, Ghent University). The well-illustrated book presents the wide array of new archaeological finds and topographic and chronological data about sites, assembled via systematic prospections by a team of Ghent University in a valley of central Adriatic Italy. The many spectacular survey data from a series of now abandoned ancient urban centres and protohistoric agglomerations, are combined here with non-invasive prospection results from sites found in their rural hinterlands. The analysis and documentation of all these discoveries, and of their relation with environmental change in the past, now provide a crucial understanding of an ideal section through the diversified central Italian landscape, linking the Apennine Mountains with the Adriatic coastal plain. In this way the survey project reveals a spectrum of settlement situations, ranging from a Roman colony on the coast and a series of pre-Roman Iron Age inland centres, to the smallest dwelling places of indigenous and immigrant communities living in this specific settlement chamber of the Mediterranean between the early Iron Age (circa 900 BC) and the end of Antiquity (circa AD 600). The intensive use of landscape survey archaeology and remote sensing approaches, of which this book is a reflection, has enabled the scholars involved in this team effort to study diachronic patterns of urban and rural habitation and land use with much greater precision than before, thus contributing to the "longue durée" landscape and settlement dynamics in this part of the ancient world.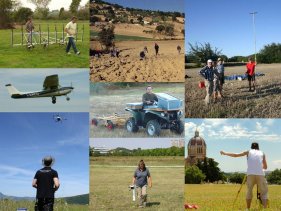 The Potenza Valley Survey (Marche, Italy). Settlement dynamics and changing material culture in an Adriactic valley between Iron Age and Late Antiquity, Academia Belgica-Studia Archeologica 1, Ed. F. Vermeulen, D. Van Limbergen, P. Monsieur, D. Taelman.  ​
To acquire the book please write to or to
Academia Belgica - Via Omero 8, Roma - www.academiabelgica.it
Exhibition: Revealing a Roman Landscape. Potentia and the Potenza valley between the Apennines and the Adriatic Sea
  Rome (24/05/2017 - 7/07/2017)- Porto Recanati (14/07/2017 - 14/10/2017) - Gent (08/03/2018 - 04/04/2018)